Canaport LNG announces Dalhousie Medicine New Brunswick scholarship

Canaport LNG announced today the creation of a four-year, fully funded scholarship for a student attending Dalhousie Medicine New Brunswick (DMNB), the first medical education program in the province.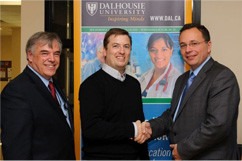 "We are very pleased to be able to offer a scholarship that allows a student to attend a medical school program right here in Saint John," says Adolfo Azcarraga, Canaport LNG's General Manager. "Having a medical school in our province will help encourage more students, and eventually doctors, to make New Brunswick their home and we are very proud to support DMNB in their efforts to retain more doctors in the province."
The program admits 30 students from New Brunswick each year and is distinctive because it bridges two provinces. In the first few years of the program lectures will be delivered from Halifax to Saint John by video conferencing using full motion, high-definition video conferencing technology. In their final two years DMNB students will complete their clerkships in Moncton, Fredericton, Miramichi and Saint John.
"We greatly appreciate Canaport LNG's leadership in creating this generous scholarship for one of our students," says Dr. John Steeves, Associate Dean of DMNB. "Medical education is very costly and removing financial barriers for our students will help to make a career in medicine more accessible to New Brunswick students."
The scholarship is valued at $140,000 and provides $35,000 per year to one student for full tuition, books, equipment and living expenses for the full four years of their medical degree.
The recipient of the scholarship, Sheldon Wood, is married with two young children. He holds a Bachelor of Computer Science from UNB and has worked in IT consulting with various technology companies over the past 15 years. He is an active volunteer in Saint John, and has traveled overseas to do volunteer work in Africa.
"Being the successful recipient of this bursary will drastically improve the lives of my family by removing a large financial stress and burden, allowing me to focus on my studies and on other important factors such as the raising of our children," said Wood.
Research has shown that seventy to eighty per cent of new graduates want to locate their practices in a site where medical education is being delivered, and once trained, they are more likely to stay in that region upon graduation.
DMNB is a program of Dalhousie Medical School, offered in collaboration with the Government of New Brunswick, the University of New Brunswick and Horizon Health Network.
Media Contacts:
Kate Shannon
Communications
Canaport LNG
506-638-1311
kshannonm@canaportlng.com

Mary McIntosh
Dalhousie Medicine New Brunswick
651-9903