Canaport LNG first to host the Q-Flex on the Eastern Seaboard
One of the largest and most innovative LNG ships in the world to arrive in Saint John

Saint John, New Brunswick – December 1, 2009: Travelling 22 days and 15,000 kilometres from Ras Laffan Industrial City in Qatar, the Q-Flex MV Mesaimeer, one of the largest and most advanced vessels of its kind – arrived at the port of Saint John to deliver the equivalent of 4.6 bcf of Liquified Natural Gas (LNG) to the Canaport LNG facility.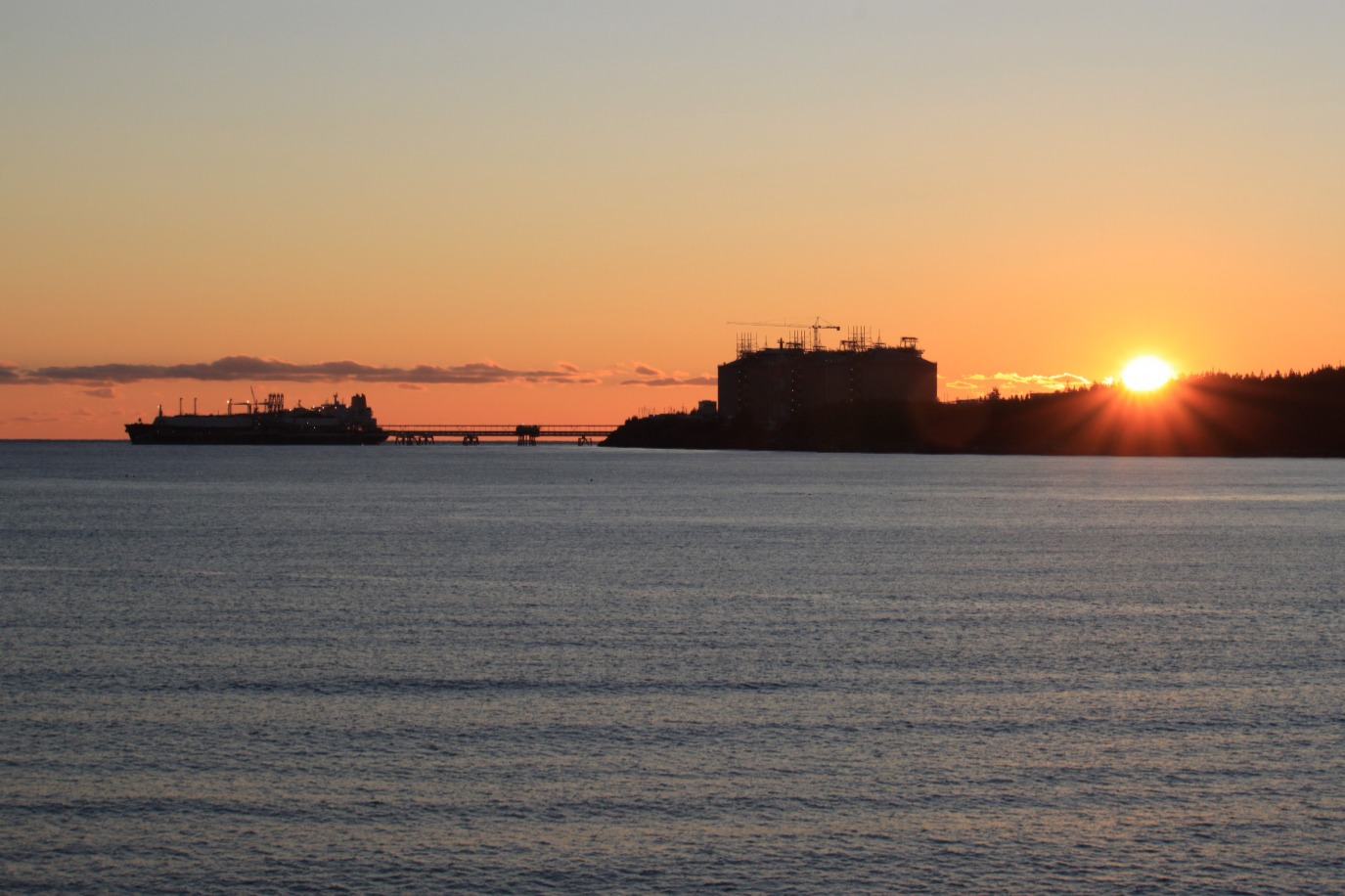 "Not only is this the first LNG ship from Qatar to call on Canada, but the Q-Flex is the first LNG super tanker to arrive on North America's East Coast," said Phil Ribbeck, President of Repsol Energy North America. "This is an extraordinary moment for us and validates Canaport LNG's capabilities to receive such vessels, enabling Repsol to work with one of the most substantial gas-rich nations in the world."
"We are very pleased with the delivery of LNG to the Canaport LNG Facility as it illustrates the incredible market reach Qatargas now has," said Mr. Faisal M. Al Suwaidi, CEO of Qatargas.

"The Canaport LNG Terminal in Saint John is among the very few terminals in the world that can accept a ship of the Q-Max and Q-Flex's size. This marks a new era for our region and for Canaport LNG as a significant player in the global gas industry," says Blaine Higgs of Fort Reliance. "This is a very proud moment for Saint John and all who have helped make Canaport LNG a reality."
The Q-Flex is the world's second largest LNG tanker with a capacity that is roughly 55 per cent more than its predecessors and is more environmentally friendly with approximately 40 per cent lower energy requirements and carbon emissions than conventional LNG carriers. The culmination of reserves and efficient modes of transportation helps Qatar deliver a competitively priced natural gas supply to markets around the world.
Qatar has the third-largest oil and gas reserves in the world (about 14% of the world total) with proved oil reserves of 15 billion barrels and proved natural gas reserves of nearly 920 trillion cubic feet. In 2008, Qatar's total natural gas exported was 2 trillion cubic feet.
Canaport LNG's General Manager, Jorge Ciacciarelli said the arrival of the first Q-Flex is a significant step for the state-of-the-art facility.
"We have more reasons than ever to be thankful to the many people who continue to help us pioneer Canada's first LNG terminal. Saint John, New Brunswick is the first city to welcome the Q-Flex to the East Coast of North America, reinforcing our region as a reliable natural gas supplier. It is with gratitude we celebrate this moment with our community, our province and our partners."
The arrival of the Q-Flex marks the 10th ship received at Canaport LNG since its commissioning on June 22, 2009. The terminal has received LNG from Trinidad and Tobago, Egypt and now Qatar. With this diverse supply of LNG and the Canaport LNG facility capabilities, Repsol will be able to provide a reliable and flexible supply of natural gas to the market.

Q-Flex Facts
Equipped with an onboard re-liquefaction system it can reliquefy the boil off gas and return the LNG to the cargo tank allowing for almost 100% of the cargo to be transported to customers (traditional steam turbine ships use the boil off gas as fuel).


Propelled by two slow speed diesel engines it is estimated to consume about 40% less energy and it has lower carbon emissions than traditional steam turbines


The Q-Flex can carry 216,000 cubic metres of LNG, or roughly 4.6 bcf equivalent of natural gas, as compared to ships received to date of 138,500 cubic metres (one Q-Flex shipment fills approximately half of Canaport LNG's storage)


Delivered in 2009 it is 315 metres long, which is 78 metres longer than ships received to date


Although it is large, it is the second largest LNG carrier in the world – the Q-Max is the largest and can carry 266,000 cubic metres of LNG, or roughly 5.7 bcf equivalent of natural gas
About Canaport LNG
Canaport LNG Limited Partnership is a partnership between Fort Reliance and Repsol, S.A. subsidiaries. Canaport LNG is operating as a world-class liquefied natural gas receiving and regassification terminal. Situated in Saint John, New Brunswick, Canada, Canaport LNG has a send-out capacity of 1 billion cubic feet of liquefied natural gas a day, destined for markets in Canada and northeastern US. The natural gas is delivered through the Brunswick pipeline to Maritimes Northeast Pipeline with terminuses at Beverly and Dracut, MA. The construction of the terminal created 1,600 jobs (85% of workers came from Saint John and New Brunswick) and has created 70 permanent jobs for operations. To learn more, please visit www.canportlng.com.
Canaport LNG Technical Details:
Capacity: 1.2 Bcf/day
Storage Capacity: 9.9 Bcf gas equivalent
Ownership Structure: 75% Repsol / 25% Irving Oil
About Repsol
Repsol is a fully integrated oil and gas company, operating in over 30 countries. Repsol is one of the ten largest private oil companies in the world and one of the world's largest LNG players. Repsol is the managing general partner in Canaport LNG Limited Partnership, the entity that owns and operates the Canaport LNG facility. Repsol has contracted for 100% of the capacity in the Canaport LNG facility. To learn more about Repsol in North America or Repsol international, please visit www.repsolenergy.com and www.reposl.com.


Media Contacts:
Francisco Garcia Tobar
fgarciat@repsol.com
+1 506-638-1311

Mary Usovicz
musoviczl@repsol.com
+1 978-317-3434

Repsol, S.A.
Kristian Rix
rix.kristian@repsol.com
+34-91-753-6314