Saint John Sea Dogs and Canaport LNG Launch 2nd Season of 'GET FANatical About Math' Program

Saint John, New Brunswick – The Saint John Sea Dogs and Canaport LNG launched the second season of their joint educational initiative, the 'Get FANatical About Math' Program today. More than 200 students, teachers and school administrators at the Glen Falls Elementary School took part in the Math rally launched by Saint John Sea Dogs players.
Sponsored by Canaport LNG, this comprehensive program is designed to foster math skills of students from kindergarten to grade eight in School Districts 6, District 8 and Samuel-de-Champlain school. An upwards of 14,000 students in 600 different classrooms are expected to participate in the program, which applies math principles to Sea Dogs hockey.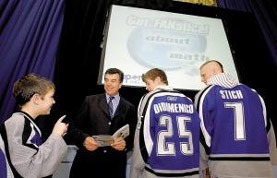 ADDING THINGS UP
Appeared on page C3 - Telegraph Journal

Glen Falls student Noah Kilpatrick tells Canaport LNG manager Jorge Ciacciarelli the answer to a math question during the launch of the second season of the Get FANatical About Math Program with the Saint John Sea Dogs at Glen Falls Elementary School. Noah said the sum when adding the two numbers of Sea Dogs forward Chris DiDomencio's number 25 is 7, the number for teammate David Stitch. The comprehensive program is designed to foster math skills of 14,000 students from kindergarten to Grade 8 in School Districts 6 and 8 and école Samuel-de-Champlain.
Noel Chenier/Telegraph-Journal
"We've seen some great success with this program last year and we're expecting even better results this year," said Get FANatical About Math Program developer, Derek McCullum. The 'Get FANatical About Math' program, which is supported by the Atlantic Math Curriculum, uses both hockey vocabulary and Sea Dogs player numbers/statistics to help young people apply and develop their arithmetic skills in a fun and exciting setting.

Jorge Ciacciarelli, General Manager of Canaport LNG, said his organization is pleased to be supporting this initiative once again.

"If students during these formative years can understand how useful math will be to them and how they can apply math skills to everyday situations, they open up great opportunities for themselves."

"This program is one way to help students get excited about math," he said. "Our hope is to see students in New Brunswick excel in math and we wanted to do our part to encourage this area of learning."

Canaport LNG has committed to a three-year sponsorship of the program.

About Canaport LNG
Canaport LNG Partnership Limited is a partnership between Irving Oil Limited and Repsol. Canaport LNG is to begin operation as a world-class liquefied natural gas receiving and regasification terminal in late 2008. Situated at Saint John, New Brunswick, Canada, Cana port LNG will have a send-out capacity of 1.2-billion cubic feet of liquefied natural gas a day, destined for markets in Canada and the northeastern United States. The project will create well over 700 jobs during construction. To learn more, please visit www.canaportlng.com.
About the Sea Dogs
The Saint John Sea Dogs are a member of the Quebec Major Junior Hockey League and are one of 59 member clubs of the Canadian Hockey League. More information is available at www.saintjohnseadogs.com.
Media Contacts:
Carolyn Van der Veen
Canaport LNG
Community & Communications Manager
506-658-6212
cvanderv@canaportlng.com
Rick Bowness, Jr.
Saint John Sea Dogs
506 632-8154